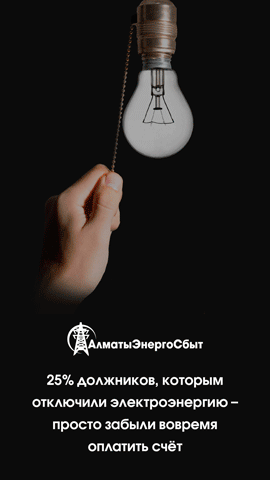 History
AlmatyPowerSale LLP has been established as a result of structural reforms in the domestic power industry, and has become an independent company and the assignee in respect of power supply agreements with individuals and legal entities of Almaty Power Consolidated JSC (APC). In accordance with the Law "On power industry", the company is registered as a legal entity on June 5, 2006, and it is a subsidiary of Samruk-Energy JSC. At the same time, as per the legislation, AlmatyPowerSale LLP obtained the status of guaranteed power supply company of Almaty and Almaty region.
The core activity of AlmatyPowerSale LLP includes purchase of electric power in wholesale and retail markets of power for its further sale in the retail power market to consumers.
Since commencement of its activities in the market of energy services, AlmatyPowerSale LLP is oriented on interests and demands of consumers, improving quality of services and establishing all required conditions for convenience of citizens.
Since November 2006 the company has been included into the register of market entities, providing power for 2,3 mln residents and about 22 ths enterprises of Almaty and Almaty region.
In 2007 the company opened offices for consumers in Almaty.
In 2008 AlmatyPowerSale LLP opened the first office in Almaty region - in Kaskelen.
For the period from 2008 to 2009 the company opened another seven offices in Almaty region: vill. Uzyn-Agach, Yessik, vill.Kegen, vill.Shelek, Kapchagay, vill.Bakanas, Talgar.
In April 2009 AlmatyPowerSale LLP got the International Quality Management System certificate ISO.
In April 2010 "Consumer Personal account" was developed in conjunction with ALSECO JSC for convenience of consumers. This development enabled consumers to receive required information on readings of metering devices, billed charges and payments received in a prompt manner.
On June 7, 2010, AlmatyPowerSale LLP presented new multichannel Contact center (+7-727-356-99-99, 399-99-00), specialists of which promptly take calls of consumers on a twenty-four-hour basis (24/7). 30 trained operators have began to consult residents of Almaty and Almaty region in relation to issues of the whole Almaty energy complex. In cases where demands of consumers are beyond the competence of the Contact center, operators will provide the relevant contacts.
In 2011 the company established the ninth regional office in one of the most heavily populated areas, village Chundzha.
The tenth regional office for consumers of AlmatyPowerSale LLP was opened in 2013 - in village Otegen Batyr.
In 2014 IT security audit system was introduced. For compliance with the Law "On protection of personal data", in conjunction with Alseco JSC and other providers of public services, folding system for billing invoices was introduced, due to which residents of Almaty and Almaty region began to receive billing invoices in the form of an envelope and glued at the edges. This ensured protection of personal data.
In 2015, AlmatyPowerSale LLP opened district office DO No.3 for effective operation and convenience of consumers of new Nauryzbay district of Almaty region. Earlier consumers of newly formed Nauryzbay district were served in Auezov district office No.7 and Kaskelen DO.
In 2016 ambitious program for implementation of automated power accounting system (APAS) project in Almaty and Almaty region was commenced. The project was implemented by Alatau Zharyk Company JSC - grid operator and main partner of AlmatyPowerSale for power transmission to consumers.
Emailing of billing invoices for power supply is becoming more common since 2017.
In March 2018 AlmatyPowerSale LLP successfully passed the re-certification audit and got the International Quality Management System Certificate in accordance with ISO 9001:2015.
In 2018, the system of electronic signing of power supply agreements through the corporate web-site of AlmatyPowerSale LLP was implemented in the framework of the state program "Digital Kazakhstan" and rating of the World Bank "Doing Business".
The Contact center was significantly improved in 2018, and that allowed to reduce costs without damage to quality. Software and hardware for support of information service of the Contact center are up to modern requirements.
In 2018-2019 AlmatyPowerSale LLP introduced new form of service for consumers in district offices by principle "open space", where there are no barriers, including walls, for efficient interaction with consumers.
In 2019 the improved version of the Personal account enables domestic consumers to make requests online in relation to electric power issues. The following issues may be solved online with an electronic digital signature (EDS): 1) to change number of residents, 2) to change tariff plan, 3) to call for service for inspection of a metering device, 4) to seal a metering device, 5) to unseal a metering device, 6) to close a consumer account. Submission of metering device readings and calling for an employee from Alatau Zharyk Company JSC for readings may be done online without EDS. This improvement has significantly accelerated processing applications from consumers, as it automated some processes of interaction of AlmatyPowerSale LLP with grid operator AZhC JSC.
Assessing the results of activities of AlmatyPowerSale LLP over the past years, it can be surely stated that the company shows stable positive dynamics of production and financial indicators.
History, figures and facts
History, figures and facts
SEO_STREET_ADDRESS
SEO_POSTALCODE
SEO_LOCALITY
SEO_REGION
SEO_COUNTRY