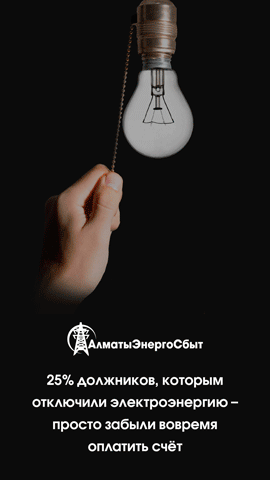 Back
AlmatyPowerSale LLP takes all the efforts for improvement its services for consumers: transition to electronic document management, automation of processes and improvement
of the service level. Online services allow consumers of guaranteed power supply company
of Almaty and Almaty region to save their time, and it is very important for big cities.
By the end of the first quarter, more than 400 companies use online format regularly
for interaction with AlmatyPowerSale LLP.
Previously, for timely payment for consumed power, the legal entities have provided readings
of metering devices to district offices of AlmatyPowerSale (DO) and have paid as per the issued bills. Now legal entities, consumers of AlmatyPowerSale, using electrical power for domestic needs,
may perform such operations online with the use of EDS without visiting DOs.
The updated Personal Account of consumers is an alternative to a visit to DOs,
which is particularly relevant in the period of sanitary restrictions.
Legal entities need to have EDS and log in the Personal Account on www.esalmaty.kz for online services of AlmatyPowerSale LLP. Video instruction is available on https://esalmaty.kz/ru/i3398.
Press Service of AlmatyPowerSale LLP: +7 (727) 356-04-31
E-mail: aespress@esalmaty.kz;
Web site: www.esalmaty.kz,
Social networks: https://www.instagram.com/esalmaty.kz/
https://www.facebook.com/esalmaty.kz/
Round-the-clock Contact Center of AlmatyPowerSale LLP: +7 (727) 356-99-99
Success of digital transformation of AlmatyPowerSale
Success of digital transformation of AlmatyPowerSale
SEO_STREET_ADDRESS
SEO_POSTALCODE
SEO_LOCALITY
SEO_REGION
SEO_COUNTRY