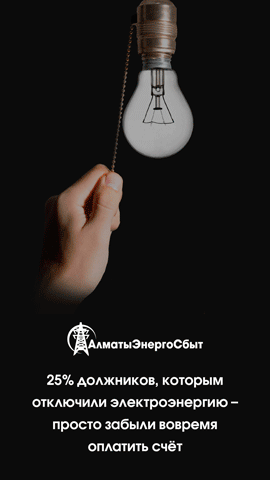 Back
Domestic electric power industry needs modernization of current assets as existing capacities were built in the 60-70s of the last century. This was communicated by Aidos Daribayev, the Head of the Department of Electric Power Industry Development of the Ministry of Energy, in the course of online press conference, held on the site of the Central Communications Service
According to the speaker, for 2020, the single procurement organization has concluded 50 agreements with 32 energy generating companies for procurement of service for support of readiness of electrical power for the cumulative capacity of 9 191,96 MW. This year, about 80 billion tenge is expected to be invested in the electric power generation sector.
As was noted by the representative of the Ministry of Energy, the most of the revenue, obtained from the market of electrical power, should be directed to modernization and reconstruction of plant equipment.
However, according to the speaker, as per forecasting estimates, these funds do not allow to perform complete modernization and renewal of plant equipment, which is already worked up its fleet life. In this regard, the quality of electric power supply is compromised.
Reference: deterioration level of plants has been increasing from year to year, and now it is about 60%. The current level of threshold tariffs of energy generating companies does not completely cover costs of domestic energy producers, and plants have to direct a part of revenues from the market of electrical power for coverage of current costs. This fact is confirmed by the increasing number of cases of emergency power outages, reduction in the quality of power supply to consumers and increased risks of dependence of the common power grid of Kazakhstan on neighboring countries.
In addition, the speaker added that the cost of electric power does not cover the required costs, and now energy generating companies address funds intended for modernization to cover current losses.
"Today, energy generating companies owe more than 3 bln KZT to coal enterprises, although previously this amount has not exceeded 200 mln KZT per year. There is also a debt to gas companies in the amount of 6 bln KZT," - the speaker added.
Reference: for 2019 the Common Power Grid of Kazakhstan has committed 3 996 technological violations, from which accidents - 1, I grade failures - 31, II grade failures - 3 964. During the heating period, the number of technological violations amounted to 2 380, including: accidents - 3, I grade failures - 26, II grade failures - 2 351.
"This situation forces us to purchase services for regulating electric capacity from neighboring countries in the amount of more than 8 bln KZT per year, and that also affects the final price of electric power," - A.Daribayev noted.
Deterioration level of power stations is about 60%
Deterioration level of power stations is about 60%
SEO_STREET_ADDRESS
SEO_POSTALCODE
SEO_LOCALITY
SEO_REGION
SEO_COUNTRY